Thank you to Carers in Dorset for asking me to write a short piece, something uplifting, something non-covid related. No small challenge then.
I can imagine how worried, anxious and exhausted many of you are. Normal respite unavailable, fear of 'carer to cared for' transmission ever present. Fear of losing your loved one, that sick feeling that sits somewhere in your chest and never seems to go away. A feeling that unless you have experienced it, no one could imagine.
I can imagine it because my daughter lived on a knife edge of life vs death for 28 years. I crumbled many times. It was an amazing nurse in the early years who helped me, showing me how to live in the moment, enjoy the little things, treat every day as a new day, not looking back, and not looking forwards either. I learnt to enjoy my baby who turned into a beautiful adult. It was at times crushingly exhausting and I did at times 'lose it'  when her behaviour problems pushed me to my limits. The physical tiredness of lifting her combining with no hope of a proper night's sleep robbing me of any tolerance. Both of us, broken, tired, tested.
Each of us is different, each of our children unique. I hope the legacy of that wonderful nurse I encountered all those years ago, can live on, and her message enable you to make moments in each day become little islands where you can rest and keep your sanity. Might be glancing out of the window to see the trees and a bird fly by, might be closing your eyes and imaging yourself somewhere beautiful or a chocolate slowly melting on your tongue. One thing I found, and I hope you do to, is that such experiences as we have with our disabled children enable us to know the purest love imaginable.
Keep well.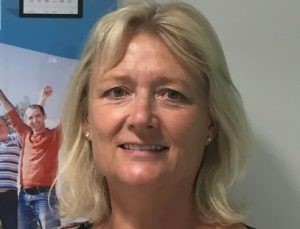 Nicola Murgatroyd (known as Tatty by her grandchildren). Mother to two other grown up children, and oldest daughter Faith (1981 – 2010) and founder of MyLiferaft an online tool which supports carers collate, manage and share multiple items of information about the person they care for. MyLiferaft is available with a special Premium Account promotion via the Dorset Carers Card.